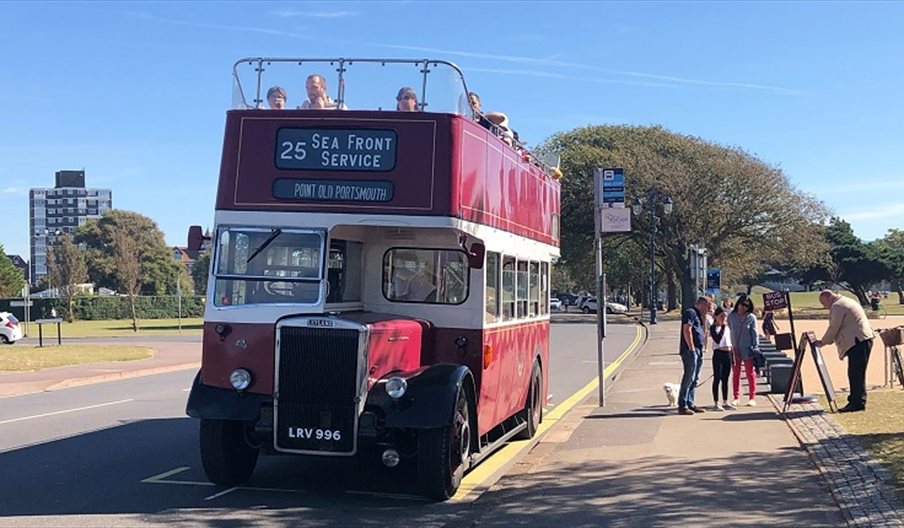 About
Take a vintage bus ride across the city this summer, as the City of Portsmouth Preserved Transport Depot returns with its monthly service.
Step aboard and journey across Portsmouth on these classic, expertly preserved buses. Services depart The D-Day Story every hour from 11.30am to 3.30pm. From The D-Day Story the buses stop at Clarence Pier, Portsmouth Museum and Art Gallery (6 minute break), Broad Street/Feltham Row and Canoe Lake, before returning to The D-Day Story at around 5 past the hour.
Departure (and certain arrival) times:
D Day Story (depart): 11:30, 12:30, 13:30, 14:30, 15:30
Clarence Pier: 11:35, 12:35, 13:35, 14:35, 15:35
Portsmouth Museum and Art Gallery (arrive): 11:39, 12:39, 13:39, 14:39, 15:39
Portsmouth Museum and Art Gallery (depart): 11:44, 12:44, 13:44, 14:44, 15:44
Broad Street/Feltham Row: 11:49, 12:49, 13:49, 14:49, 15:49
Canoe Lake: 11:59, 12:59, 13:59, 14:59, 15:59
D Day Story (arrive): 12:05, 13:05, 14:05, 15:05, 16:05
Services are planned to run on:
22 May
26 June
24 July
21 August
25 September
Please note: times, dates and services are subject to change based on the weather. Check back for updates or follow the CPPTD Facebook page for up-to-date information on the service.
Book Tickets
Guide Prices
The bus rides are free of charge. If you wish to make a donation to fund restoration works on the vehicles, donation forms can be obtained from the volunteer crews.
TripAdvisor
Map & Directions