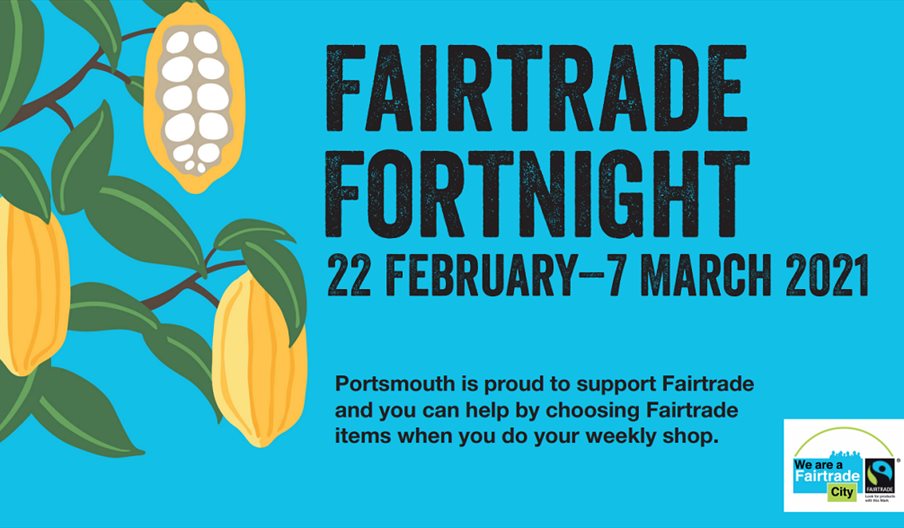 About
Every February and March, thousands of individuals, companies and groups come together for Fairtrade Fortnight. They share the stories of the people who grow our food and drinks, and who grow the cotton in our clothes - people who are often exploited and underpaid.
Of course, this year's event will feel very different. Fairtrade SE Hants will support the national events, but will also have its own meeting on Monday 1st March, 'Climate, Fairtrade and You'. The meeting will see Adam Gardner, Acting Head of Campaigns at the Fairtrade Foundation, explain how producers are being hit by climate change and how they are being helped by Fairtrade organisations. It will also feature some videos so that attendees can hear directly from the producers.
Get all the details and book your free ticket on Eventbrite.
Choost the World You Want this Fairtrade Fortnight
Fairtrade Fortnight 2021 will highlight the growing challenges that climate change brings to farmers and workers in the communities with which Fairtrade works. The facts are straightforward: farmers and workers in the global south, who have done the least to contribute to climate change, are disproportionately affected. They have said that climate change is one of their biggest challenges right now, and that low prices for their crops mean they are struggling to fight back.
However, with more money through Fairtrade they feel more equipped to meet their everyday needs and deal with the challenges posed by climate change.
The climate crisis is an immediate and ever-increasing threat. Those in climate-vulnerable countries are already seeing its impacts from droughts and crop disease to floods, heatwaves and shrinking harvests.
With the emergence of the global COVID pandemic, the challenges that farmers face now are bigger than ever before, with falling commodity prices and widespread shocks reverberating along our global supply chains. Ongoing poverty in farming communities makes it increasingly hard to cope with the effects of climate change.
How can I get involved?
Join the Fairtrade Foundation Festival online festival with your friends and family.
Get involved in the community events taking place around the country as part of the Fairtrade Community Festival.
Use Fairtrade's social media resources to spread the word online and add more voices to the fight. You can find all the resources for Fairtrade Fortnight here.
Visit the Fairtrade Schools site to download your education pack for early years, primary schools or secondary schools.
There are lots of interesting things children can do at home or in school. The website contains suggestions for activities plus an invitation to young people to share their vision of the world they want. The theme for 2021 is all about the climate emergency, the effects it's already having on the people who produce our food and how Fairtrade organisations can help.
Read more about the call to young people to share their vision of the future they'd like to see.
Materials and ideas for faith groups
There are lots of excellent reources on the Fairtrade Foundation website, written for different faiths. Why not include some prayers or a short video in a service? You could also have a look at this ecumenical service.
Other things you can do
Host your own online meeting or event. This could be anything from a discussion space, a quiz, a talk, even an online coffee morning, cook along or crafting session.
You can sign the Climate Coalition's Climate Declaration and tell your local MP or Council about your commitment to putting the voices of producers at the heart of the climate crisis fight. New press release templates to use are coming soon.
Make sure you're still putting Fairtrade products in your shopping basket.
Share stories of how producers are doubly hit by COVID and the changing climate and why Fairtrade can make a difference.
How does Fairtrade support farmers in the climate crisis?
Fairtrade is about social, economic and environmental justice. These are built into the organisation's standards and drive everything it does. A root cause of the inability to adapt to and mitigate climate change is poverty. More money in the hands of farmers is needed if they are to adapt and survive the climate crisis. Choosing Fairtrade fights for improvements in producers' livelihoods with collective strength through co-ops and their bargaining power, the protection of a Minimum Price and Fairtrade Premiums.
In 2019, Fairtrade also launched an ambitious new living incomes campaign to lead the way to a sustainable future for cocoa farmers. A living income would provide farmers with a decent standard of living – enough to cover all their cocoa farming costs and enough to cover their basic human rights, like a nutritious diet, children's education and healthcare. Only when they have met these basic needs can they start to meet the challenges of our changing climate.
Find out more about why choosing Fairtrade means choosing to fight climate change on Fairtrade's Climate Justice campaign page.
TripAdvisor
Map & Directions