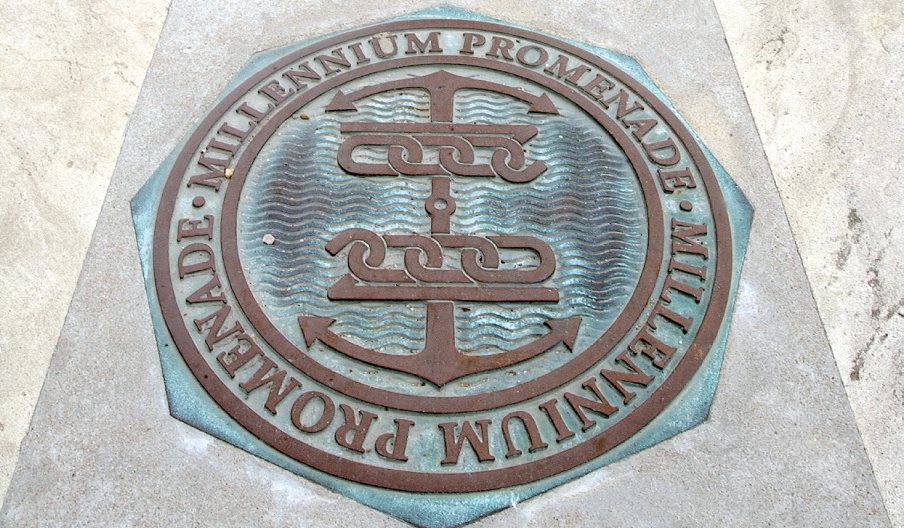 About
Please note, some sections of the Millennium Promenade may be closed due to the ongoing Coastal Defence Works. In this instance, alternate routes will be clearly signposted.
Three kilometres of promenade links of Portsmouth's historic waterfront - with panels along the way to provide background to the history of the area. The route runs between Portsmouth Historic Dockyard and Southsea Castle, with visitors able to walk the route in either direction. The walkway was built with the highest quality natural stone and opened up waterfront land that had been closed to the public for centuries.
The route is indicated by a chain motif set into the surface, which can be found on much of the route between the Dockyard and Spur Redoubt sections. This chain motif symbolises the partnership between the communities of Portsmouth and Gosport and between past and present. Historically it also refers to the chain, which used to be tightened across the harbour entrance at times of potential attack.
Column-mounted lanterns light the promenade, designed to reflect the historic character of blue lights at night that are strung around the harbour.
Find out more about the promenade and its various points of interest in our dedicated Millennium Promenade section.
A free printed handout is available from the Visitor Information Centres, which provides full details of the route and the history associated with the Millennium Promenade.
Alternatively, download the Millennium Promenade leaflet from the pdf link on this page.
Safer Streets
Recent work on the Millennium Promenade was completed with funding assistance from Safer Streets, the programme that brings together businesses across Portsmouth and the Isle of Wight to offer a supportive environment for anyone who has experienced sexual violence or harassment. Two locations on or near the Millennium Promenade route around Old Portsmouth have signed up to the scheme: Aspex Gallery and Portsmouth Museum and Art Gallery.
Find out more about Safer Streets and the We Stand Together project.
Book Tickets
TripAdvisor
Map & Directions