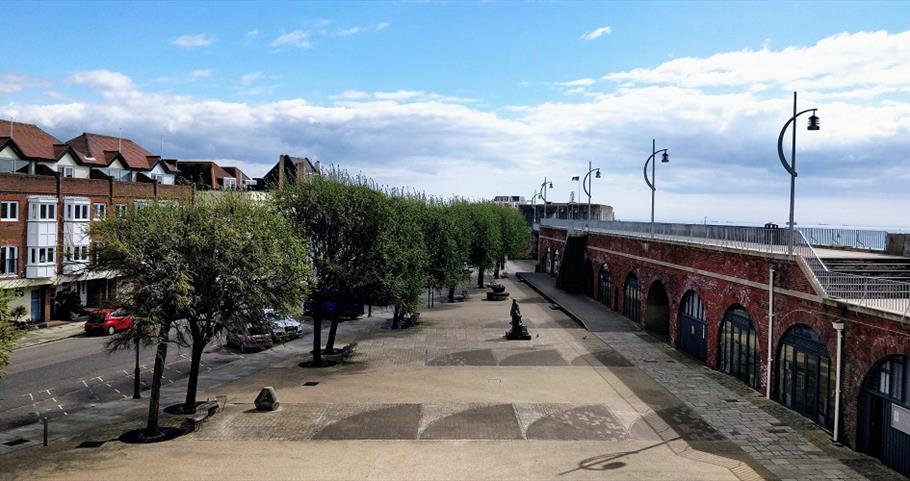 Independent Island
Portsmouth has a thriving independent scene - as evidenced by our many boutique shops, artisan coffee shops and the vast selection of restaurants. For tourists wanting to get away from the cop-and-paste high streets you can see all over the country, and enjoy something that little bit different instead, Portsmouth is the place for you.
Food and drink
The independent scene in Portsmouth is none more evident than in its food and drink offer. Whether it's the myriad Asian restaurants lining Albert Road, the British gastropubs on Palmerston Road or the many different global eateries on Osborne Road - there's much to choose from.
There's also a chance to enjoy some local ales, wines and gins at the many indie pubs and bars. Albert Road has long been seen as the pub centre of Portsmouth, but there's much more beyond it for those wanting to explore. The area around Castle Road has some great institutions that are firm favourites among the locals, whilst the southern end of Palmerston Road has - in recent years - firmly embraced the trend for good ales and pub grub.
Cafes and coffee shops
If you're fancying a sweet treat, or need a pick-me-up after a day spent hitting up the boutique shops, Portsmouth has much to offer. It's a caffeine-lover's paradise, with many indie coffee houses offering their own unique blends and creations. Canvas Coffee in Portsmouth & Southsea Train Station is a popular choice, as are Hideout Coffee and Southsea Coffee Co.
Whilst these offer snacks and sandwiches, there's a vast array of food to enjoy at the city's independent cafes. The Tenth Hole is a Portsmouth institution, with cakes that have legendary status. There's a similar offer at the Parade Tea Rooms, which is situated on Southsea Common and in Gunwharf Quays.
Brewing and distilling
Whether you want to sample something made right here in the city, or take it home as a reminder of your trip, there is plenty to choose from.
If ales are your thing, pay a visit to Urban Island to the north of the city, where you can sample some of the wares inside its brewery on select open days, or take a keg away with you to enjoy later. Alternatively you have Staggeringly Good brewery just around the corner from Fratton Park, which specialises almost exclusively in IPAs.
Gin and rum lovers will want to take a trip to Portsmouth Distillery inside the historic Fort Cumberland. Book yourself a distillery tour and try some of the excellent products made on site, then make your purchases to take a sip of the city at home.
Get crafty
If you'd rather be a participant than an observer, why not try out Portsmouth's independent craft activities? At the Hotwalls Studios you can try your hand at a host of different art disciplines, from loom weaving to Ebru painting and more. There are regular courses led by the designer-makers themselves to show the work they get up to inside their studios.
Over on Albert Road, Southsea Bathing Hut is more than just a shop - offering classes so visitors can learn how to make their very own soaps and perfumes, so you can tailor it all to your unique tastes.
Independent shopping
Last, but very much not least, is Portsmouth's independent shopping offer. From artisan makers to boutique stores and quirky vintage shops, we've got the lot. Right in the city centre, a part of Cascades Shopping Centre has been given over to indie shops - to allow budding retailers the chance to open in an area with high footfall.
Over on Albert Road there's a number of independent shops selling everything from craft supplies to locally made clothing and craft ales. Also, don't miss Pie& Vinyl, where you can browse the racks or treat yourself to a hearty meal.
These are just some of the suggestions for enjoying the independent culture that is - for many - the beating heart of what makes this city. Take a look through the below attractions, hotels, shops and more - and start to build your itinerary of a trip around Portsmouth's indie scene.
Number of results:
Number of results: 63
, currently showing 1 to 20.
Like a Teatray in the Sky is a vintage tearooms, contemporary store and gallery, located on Osbourne Road in Southsea.

A short walk from Southsea seafront, Florence House is Portsmouth's original boutique hotel, offering free Wi-Fi and parking in a quiet location.

Prices From

Price

£70.00

Per Room Per Night (Breakfast Included)

Minutes from Southsea seafront, Stattons is a luxurious, Edwardian boutique hotel.

Prices From

Price

£69.00

to

£140.00

Per Room Per Night (Breakfast Included)

No.6 Cinema is Portsmouth's premier independent cinema, showing some arthouse gems and forgotten classics alongside the big Hollywood blockbusters.

Prices From

Price

£5.00

to

£9.00

Per Ticket

For nearly 2 years, we have served only the finest quality foods, featuring prime beef, fresh fish and seafood, hand-picked produce, delicious appetizers and elegant desserts.


A locally sourced, home cooked and seasonal menu, washed down with something a bit special - that's the aim of the Southsea Beach Cafe.

Haldi is a Bangladeshi and Indian restaurant, with a vastly experienced and decorated chef.

There's an authentic taste of France on offer at Brasserie Lou Lou's, where quality ingredients meet Gallic flair.

At Southsea Bathing Hut, we tap into two of Portsmouth's grand Victorian traditions – beloved holiday destination and home of world-famous soap makers.

The Tenth Hole Tearooms is the perfect place to enjoy delicious homemade cakes, hearty breakfasts and tasty lunches.

Portsmouth's oldest independent sandwich shop has a new shop near the city centre.

With uninterrupted views across the seafront and the Solent, the Queens Hotel is one of Portsmouth most recognisable hotels.

Prices From

Price

£50.00

to

£285.00

Per Room Per Night (Room only)

Looking for Group Activities for children and adults near Portsmouth?

Visit the local haunts of Portsmouth to get a new perspective of the city and discover secrets and stories you never knew.

Prices From

Price

£8.00

to

£36.00

Per Ticket

The Somerset House Hotel has been restored to the original splendour of its Edwardian roots. It offers boutique rooms with free Wi-Fi and free parking, just a 5 minute walk from Southsea Beach. Part of 'The Mercer Collection'.

Prices From

Price

£70.00

Per Room Per Night (Breakfast Included)

Friendly Phil's is a vintage American diner, serving classic burgers, dogs, shakes and fries, in an authentic environment.

The Indian Cottage restaurant is the ultimate Indian and Bangladeshi restaurant, combining modern looks with simple old fashioned values such as the use of fresh ingredients to create fantastic food.

The Canteen is a waterfront café located in the historic barracks in the Hotwalls arts quarter.

Following government advice surrounding COVID-19, Aspex Gallery is now closed to the public until further notice.
Year-round programme of solo, group and themed exhibitions of contemporary visual art, accompanied by talks, screenings, performances…

Regardless of your age, ability or fitness, the Peter Ashley Equestrian Centre has a lesson for you.
Search General & Tourist Information