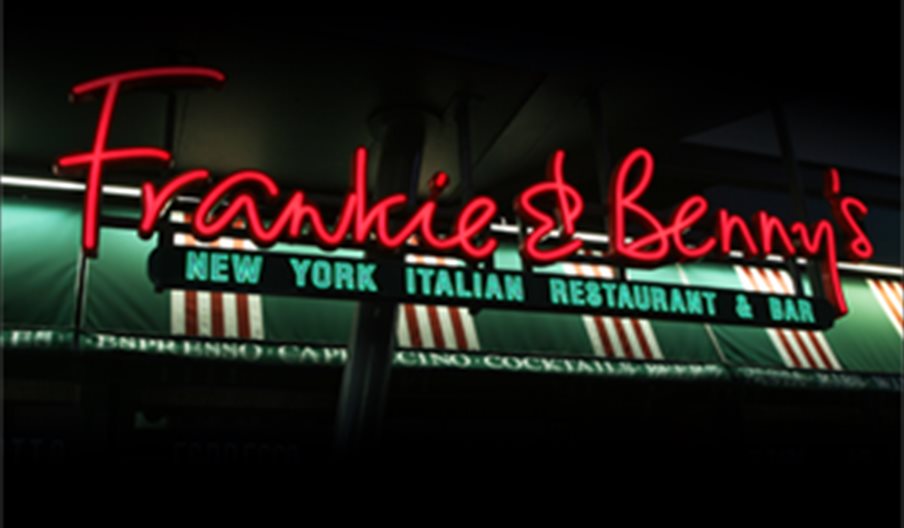 About
Frankie & Benny's New York Italian Restaurant & Bar.
Frankie & Benny's serves up the best of New York Italian cuisine to offer you big flavours and massive choice. Whether you fancy a juicy chicken burger or an Italian classic such as pizza, they've got something for everyone! Frankie & Benny's has been a much loved restaurant for over 20 years and offer families a place to go for a fun, comforting meal where you can enjoy some well-deserved, chilled-out family time. They cater for all needs with a huge gluten free menu, a wide offering of vegetarian dishes and host of healthier, lighter bites. So try one of our mouth-watering Freakshakes or grab a beer with friends and enjoy a home-from-home meal!
The instantly recognisable red neon sign and warm inviting interior will ease you into the Frankie & Benny's experience before you can take your coat off! In typical stateside fashion, great service at Frankie & Benny's is second to none. Nothing is too much trouble for their obliging and friendly staff. So loosen your tie, relax, settle into your booth seat and relish the wonderful feeling of a very satisfied appetite!
Book Tickets
Map & Directions