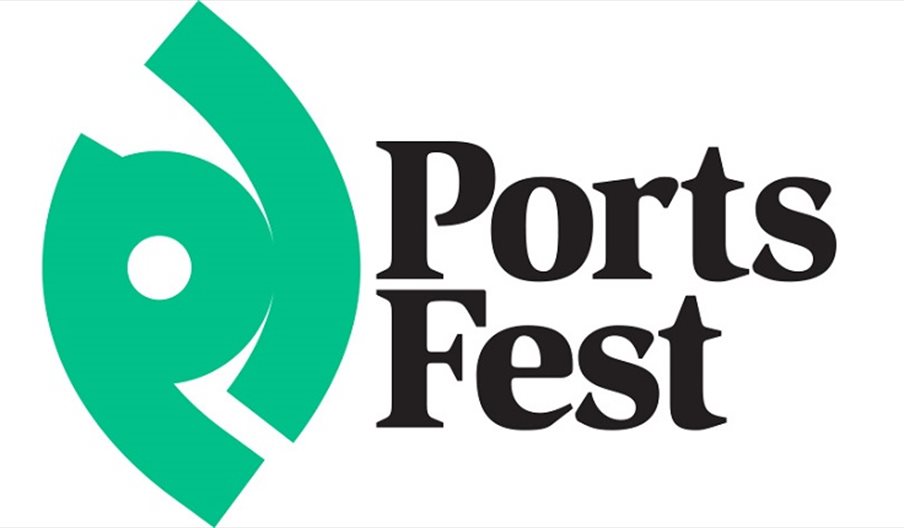 About
Ports Fest is back from 30 June to 3 July, with a summer programme packed with ambitious events and truly immersive experiences, all for your enjoyment in real life! This year's theme is Remember, Reimagine, Reignite.
Ports Fest is an annual, curated multi-arts festival. With restrictions lifted, 2022 promises to be a richer, more diverse programme of events than in recent years.
The festivities spring into action on 30 June with award-winning and Bafta nominated artist group Blast Theory, with more activities to follow with award-winning artist Chris Riddell, author Will Self and stand-up comedian and actress, Carys Eleri.
Get ready to remember our culture, reimagine our wonderful city landscape and venues, and reignite your passion for the arts, with Ports Fest 2022.
More details of all the events can be found below.
What a Picture
30 June, all day
Various locations
Free
Take wonderful pictures and make memories along this free selfie station trail around Portsmouth. Each station is created by a Portsmouth school with the help of Pauline McNamara of 'Twist of Creativity' and gives a message from the pupils to the people of Portsmouth based on the Ports Fest theme: Remember, Reimagine, Reignite.
Paint Back the Past
30 June, all day
Portsmouth Cathedral Green
Free
Envisage the lost streets of Old Portsmouth and create a reimagined version of the High Street. This is a unique chance to come together with your community and delve into local history through hands-on activities. Have you ever thought about how things would be now if only one thing had been different? This is your chance to dig deep! Join in on Saturday 2 and Sunday 3 July between 1pm and 3pm to put your on personal touch on the canvas. Alternatively, if you'd prefer a leisurely walk, you can join any time during the festival to admire this outdoor art installation.
The Makers Guild Exploring our Creative Identities
30 June - 2 July, 9am - 6pm
Guildhall Square
Free
Members of the Makers Guild will exhibit their ideas and skills as a collective. The members offer a wide variety of products and services across their independent businesses and recognise the joys and benefits from working alongside one another. This year the Makers have challenged themselves to each produce a single item or small collection that explores their creative identities. The emphasis will be on creating things for the fun of doing it; to explore ideas in abstracted ways and to try new techniques.
What do Archaeological Scientists do all Day?
30 June, 11am - 12.30pm and 1.30pm - 3.30pm
Fort Cumberland
Free, but ticket required
Have you ever wondered what happens to the stuff that archaeologists dig up? Head up to the Fort Cumberland Laboratories where art meets science, and meet the scientists using detective work to find out what really went on in history. Please note this event is only open to pupils aged 11+ and can only take 15 pupils per school. If you'd like your school to attend, contact info@portsfest.co.uk.
Brighter Sparks
30 June - 2 July, 12pm - 4pm
Jack House Gallery
Free
Talented, emerging local artists offer a joint exhibition of paired artwork pieces in response to Ports Fest's the theme of Reignite.
Chris Riddell
30 June, 1.30pm-3pm
Mayfield School
Free
An amazing opportunity for KS2 years 5 & 6 pupils to experience Lewis Carroll's Alice in Wonderland and Through the Looking Glass beautifully reimagined by multi-award winning children's illustrator Chris Riddell. The event will constitute of a live talk (including a live stream), followed by a moderated Q&A session. Please note, this event is only available to schools. To sign up your school, please email info@portsfest.co.uk.
NourishEd
30 June (3.30pm - 7.30pm) and 2 July (12pm - 4pm)
St Mary's Church
Free
Join the free, family-friendly pizza making sessions! NourishEd bring their wood fired oven and rescued food to deliver a planet-positive cookery class that will help you save money. You'll learn to make a pizza, from everyday ingredients, that are tasty, healthy and fight food waste, all in one. You'll be in good hands with the team from UKHarvest – the charity on a mission to Nourish Our Nation! UKHarvest is here to protect the environment by rescuing good quality food destined for landfill and to educate on nutrition, cookery skills and reducing food waste in the home.
Please note: Organisers must know dietary requirements and allergies of participant as well as medical conditions like Epilepsy at time of booking. They also ask that children's age is recorded on the ticket for a tailored session. These workshops are aimed at children 8 to 14.
Young People's Debate
30 June, 4.30pm - 6pm
PGS Sixth Form Centre
Free
An annual young people's debate which sees Hampshire and Isle of Wight schools discussing topical themes. This year's pressing question is in line with the festival theme: "Can we reignite the enthusiasm of young people to reduce the impacts of climate change?" If you would like to sign up your school to participate in the debate, please email info@portsfest.co.uk.
Rider Spoke
30 June - 3 July, 5pm - 8pm Thursday - Friday and 1pm - 8pm Saturday - Sunday
Victoria Park
Adults £15, Concessions £12.50
Immerse yourself in the hidden stories of Portsmouth residents as you take an hour-long, narrated bike ride around the city, accompanied by a delicate score. Remember the people and moments in your life that mean the most. Record messages and share them with strangers you will never meet as you search for the perfect place to hide a secret.
If you would like to see more of Portsmouth - this is the event for you! Whether you bring your own bike or decide to rent it at the hub, you will be able to be part of a shared experience of remembering the past whilst reigniting your passion for storytelling. During the induction, you will be provided with a smartphone on your handlebars and a voice in your ear that will ask you questions about your life, searching for a place to hide your answer to each one.
You get to choose: as you progress on your route, you may answer another question or hear what strangers have to say.
100
30 June - 1 July, 7pm - 8pm
Wedgewood Rooms
Adults £6, Concessions £4
Imagine that you must choose one single memory from your life… Imagine that choosing this memory is your only way of passing through to eternity… Imagine that you have just one hour to choose… From your whole life, from all you've ever done, felt or thought… what is the one thing you treasure most?
Performed by the Portsmouth Grammar School pupils, 100 is a theatrical, often beautiful, sometimes funny and profound play about what defines us, and what we leave behind.
The Chamber Music of Ralph Vaughan Williams
30 June, 7pm - 9pm
St Mary's Church
Free, but ticket required
A rare opportunity to hear these lesser-known, but nonetheless beautiful examples of Ralph Vaughan Williams' compositional output, encompassing both his early and late periods of writing.
Will Self
30 June, 7.30pm - 9.20pm
Groundlings Theatre
Adults £20, Concessions £17.50
Enjoy an evening with Will Self exploring the ways we remember the fiction we read in our youth, the role of memory, and our views of facticity. This award-winning author, journalist and political commentator will also read from his latest book, Will: A Memoir.
Creative Imaginings of Portsmouth's Past
30 June, 7.30pm - 9pm
White Swan Building
£5
Building on work by Dr. Louis Netter - who has used reportage drawing to explore the confluence of past and present in Portsmouth's social, cultural and economic makeup - this event utilises a range of creative practices to re-imagine the city as it once was and reflect it as it is today. Immerse yourself as Portsmouth's richly textured past is brought to life through puppetry, song, projection and drawing.
This event may not be suitable for younger audiences because of the adult subject matter explored in these talks/artwork. Age restriction 16+.
Situationist City
1 - 3 July, 11am - 4pm Friday and Saturday, 11am - 2pm Sunday
The Triangle Space, Cascades Shopping Centre
Free
Embrace the spirit of the Situationist International! Using archival maps and imagery, combined with recent documentation, reignite the past and present by creating your own maps of Portsmouth, based on free-flowing movement. Join artist Kate Street in her free workshop between 11am and 4pm on Friday 1 - Saturday 2 July, or until 2pm on Sunday 3 July. If you simply want to enjoy the exhibition, go along and visit at any time!
Crowd - A Portrait of the City with live talk
1 July (3pm - 5pm) and 2 - 3 July (11am - 5pm)
Store House 9, Portsmouth Historic Dockyard
Free
Crowd - A Portrait of the City is Pete Codling's latest artwork, which aims to reignite peoples' connections with the Historic Dockyard as Codling's work unfolds as a huge charcoal drawing on a replica 18th century canvas sail from HMS Victory.
On 1 July there's an open studio evening with a talk by Pete Codling, followed by a tour of the artwork with a chance for discussion and a Q&A session from 4.30pm - 5pm. First glass of wine free with buffet snacks - do not miss it! Then on 2 and 3 July there's an open studio exhibition to see the work up close.
Extending Reality
1 July, 5pm - 7pm
CCIXR, Eldon Building
Free
The Centre for Creative and Immersive XR (CCIXR) is the UK's first integrated digital facility in virtual, augmented and extended realities; blending the virtual and physical worlds to create fully immersive experiences. Enjoy this world-class facility for yourself at an interactive open evening, where there will also be two special talks.
'Catching a Pokémon in a Pandemic' (6pm-6.30pm) sees Professor Gerathy discuss how the pandemic turned a social mobile app game into a lone activity, but one for which the playing community pulled together to stay upbeat and engaged. This talk on fans and fandom shows just how much Pokémon Go and the social connections it helps to create can provide a network of support for local players.
Then, from 6.30pm - 7pm, Curator at Aspex Portsmouth, Vickie Fear, will be in conversation with artist Karanjit Panesar about his new commission in collaboration with CCIXR for the eXRe project.
Traitor King - History Retelling
1 July, 7pm - 8.30pm
St John's College
Free
Join Sunday Times bestselling historian Andrew Lownie as he reveals the lives of the Windsors, following the abdication of King Edward VIII. It's a dramatic story of a duke estranged by his family and forced into exile, and of Nazi attempts to recruit him to their cause. Free non-alcoholic refreshments will be available.
Prudery & Patriarchy
1 July, 7.30pm - 9pm
Groundlings Theatre
£10
Join Carys Eleri on an hilarious romp through the recently discovered poetry of Welsh feminist, bard and scourge of Bigots Gwerful Mechain, medieval poet of the female genitals. A both delightfully touching and uproariously angry one-woman show by this fabulous actor, singer, songwriter, comedian and novelist. 18+ Explicit Language.
Macbeth
1 - 2 July, 7.30pm - 9.30pm
Portchester Castle
Adults £18, Concessions £16, Table £25
Macbeth, known as Shakespeare's most immersive and haunting play, is brought to the atmospheric setting of Portchester castle. Take a chair and a picnic and enjoy watching Shakespeare as he first saw it performed, in the open air. The immersive performance will take place in the stunning setting of the Inner Bailey of the castle. Join the feast, bring a picnic, and take a spot on the grass area as you watch the play happen all around you. Those feeling very brave can book a seat at the banqueting table itself, sitting next to the characters to place themselves in the heart of the action!
Bee Cart
2 July, 11am - 11.45am, 1pm - 1.45pm and 3pm - 3.45pm
Cumberland House Gardens
Free
Bee Guides Bombus and Borage have left the Hive with the Bee Cart - their mobile world of interaction and surreal (but true) information exploring all things bee and pollination. Developed from Pif-Paf's acclaimed touring installation-show 'Honey', the Bee Cart is an exciting, accessible walkabout theatre piece for audiences of all ages. There will even be a wiggle dance included for the little ones in the last session!
Art Space Portsmouth Open Studios
2 - 3 July, 12pm - 5pm
Art Space Portsmouth
Free
The artists' studios will be open and visitors welcome to see the inspirational work created within the walls of Arts Space. The exhibition spaces will be filled with a wide variety of artworks for sale from up to 48 individual members. Visit the studios for an extremely enriching experience and reignite your love for art!
Please note, the front of the building is wheelchair accessible but towards the end of the building, the corridors narrow down.
Film Day at the Fort
2 July, 12pm - 9.35pm
Portsmouth Distillery Co., Fort Cumberland
£5 - £10
No6 Cinema and Ports Fest present a Film Day at the incredible courtyard space of Fort Cumberland Distillery, offering three open air film screenings for all tastes and ages. Just ring your best picnic chair and enjoy! Refreshments will be available to purchase and The Distillery will be firing up the pizza oven. Parking is available on site.
Encanto (12:00 - 13:45)
The Greatest Showman (15:30 - 17:15) This session will also include a free ticket to the short film Making Waves (14:00 - 15:00)
No Time to Die (19:00 - 21:35)
Sophie Osborne - Clarinet Recital
2 July, 12pm - 1pm
Church of the Holy Spirit
£5
Winner of the Portsmouth Music Festival Recital Prize, Sophie Osborne, showcases the full range and versatility of the clarinet with:
Five Bagatelles, Finzi
Scherzetto, Arnold
Nocturne in D-Flat Major, Fauré
Clarinet Sonata, Saint-Saëns
Black Dyke Band
2 July, 7pm - 10pm
Kings Theatre
Adults £23, Concessions £18
The Black Dyke Band takes to the Kings Theatre stage alongside pupils from The Portsmouth Grammar School, as part of Ports Fest 2022. The band represents the very finest achievements of Brass Band playing, continually striving to improve their musicianship and performances, so that audiences around the world can enjoy the glorious tradition of Brass Band music.
The Little Starfish and Other Stories of the Sea
3 July, 11am - 11.45am, 1pm - 1.45pm, 3pm - 3.45pm and 5pm - 5.45pm
The Round Tower
Free
Idle Discourse capture Pompey's love of the sea with a live performance combining silliness, fun and puppets. Magical short stories - all written by children from Portsmouth - are brought to life by professional actors - it's fantastic family fun for children aged 5 and above.
Artist Talk: Clarke Reynolds
3 July, 2pm - 3.50pm
Aspex Portsmouth
Free
Clarke Reynolds returns to Ports Fest to discuss his recent show at Aspex: Journey By Dots. The exhibition tracks Reynolds' experience of sight loss and his journey from growing up in Somerstown to training as a professional model maker and artist. Reynolds aims for his work to be educational and tactile - actively encouraging people to touch his art. In Journey by Dots, Reynolds uses his distinctive style of colourful braille lettering to map out three significant routes on his journey to becoming an artist.
The Multi-Story Orchestra
3 July, 7pm - 8pm
Isambard Brunel Car Park
Adults £12, Concessions £10
Ever wanted to see an orchestra in a car park? Now you can! Closing Ports Fest's programme is a concert from the wold-famous Multi-Story Orchestra, which performs in car parks around the country. The orchestra comes to Portsmouth for the first time to perform alongside amazing young musicians from our local community. Musicians will be spread across the floors of the car park - so you can explore the music up close! And since no performance of Stay On It is ever the same, you're certain to be witnessing a first!
Multi-Story's work has been recognised with a Royal Philharmonic Society Award for ingenuity and hailed as "a model which can be replicated to create new audiences for classical music around the UK."
Please note: The first half of the event will require attendees to stand up whilst they're interacting with the musicians. However, seats will be available for those that are unable to stand.
Black Is The Color of My Voice
3 July, 7.30pm - 10pm
New Theatre Royal
Adults £21, Concessions £19
The New Theatre Royal hosts a play inspired by the life of Nina Simone and featuring many of her most iconic songs live, written and performed by Apphia Campbell.
Campbell's acclaimed play follows a successful singer and civil rights activist as she seeks redemption after the untimely death of her father. She reflects on the journey that took her from a young piano prodigy destined for a life in the service of the church, to a renowned jazz vocalist at the forefront of the Civil Rights Movement. Following sell-out seasons in Shanghai, New York, Edinburgh, and in the West End of London, Fringe First award winner Apphia Campbell brings her acclaimed play to Ports Fest for one night only.
Recommended for ages 12+.
Book Tickets
Guide Prices
Prices vary by event. Many are free of charge.
TripAdvisor
Map & Directions