Southsea Splash Pool
Adventure Park / Playground
Clarence Esplanade
Southsea seafront
Southsea
Hampshire
PO5 3NS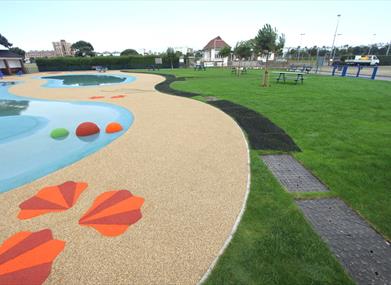 This enclosed area alongside Southsea Common encorporates two paddling pools and lots of play equipment including a mini trampoline, seesaw and plenty of grass to sit on. The pool is chlorinated and tested to ensure its cleanliness three times a day. Nearby in the tennis pavilion is a sports cafe with good quality drinks and good food.
To make this a family friendly area we have to make sure that children are kept safe and for this reason no BBQ's, alcohol, smoking or dogs are allowed on site. There are also cycle racks on the pathway.
Please remember that children's skin is very sensitive so always bring your sun block.
Please note that the splashpool is due to open on 11th May for the 2013 season weather permitting. Otherwise it will open on 18th May 2013.
Opening Times
Southsea Splash Pool
(11/05/2013 - 30/09/2013)
What's Nearby
Welcome to the premier Skatepark on the South coast.

0.15 miles away

The 19th century forts, Purbrook and Widley, are being renovated and are now multi-purpose leisure...

0.16 miles away

Southsea Common is a vast open space that was purchased from the War Department in 1922. It is...

0.19 miles away

Built in 1544, the Castle was part of a series of fortifications constructed by Henry VIII around...

0.2 miles away

Be entertained with our fun pools with funky flumes and wacky waves which are enjoyed by all ages....

0.28 miles away

We pride ourselves in offering a welcoming first class service whether you are an experienced...

0.36 miles away

Very attractive, sheltered gardens close to the seafront with a wide variety of interesting plants,...

0.42 miles away

Hovertravel, the only scheduled Hovercraft operator in Europe, is the quickest way to reach the...

0.5 miles away

0.52 miles away

Clarence Pier Southsea is one of the largest amusement park on the south coast and boasts all...

0.54 miles away

Three kilometres of promenade now links Portsmouth's historic waterfront. The route starts from...

0.54 miles away

One of the largest indoor children's playgrounds on the south coast.

0.62 miles away
Previous
Next