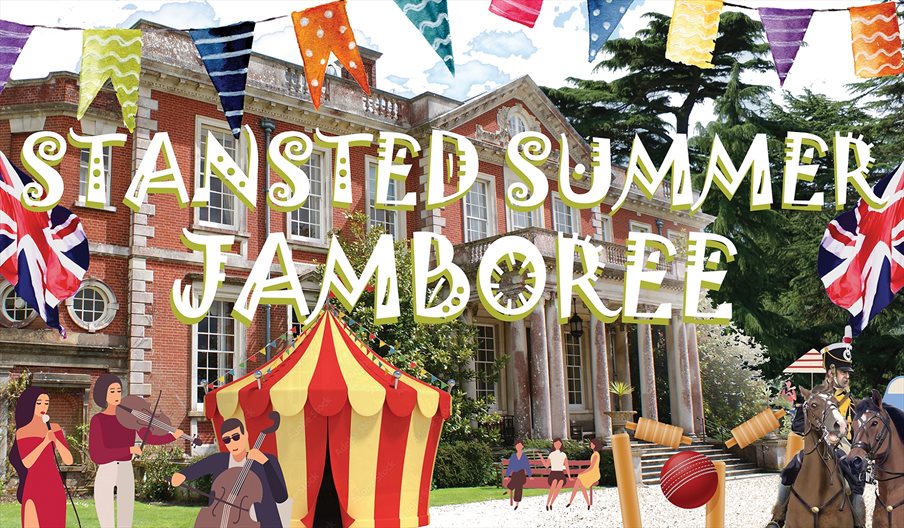 About
Calling all families, couples, young and old, dogs, grandparents, aunties, uncles, brothers and sisters too! Get your diaries open and 'pen in' the date, as the Stansted Summer Jamboree rolls back into town.
Join in for the second year of this highly popular family event, where the house and grounds are thrown open to the public, for visitors to enjoy a range of entertainment whilst being immersed in the history of the estate.
Visitors to this year's Jamboree will be treated to a host of family fun and festivities; there's something for everyone, young or old. Explore the house and discover Stansted's family history through Napoleonic re-enactments and links to the Battle of Waterloo.​
The weekend features cricket matches between the Royal Lancers, I Zingari and Stansted Park's very own team. Grab some lunch (and perhaps a glass of Pimms) from the wonderful vendors, pull up a deck chair, sit back and watch the game unfold.
Entry ticket to the show allows you to:
Enjoy the sound of leather against willow with cricket on the iconic Mansion front setting.
Experience the thrills of battle with an army of reenactors from the Napoleonic Association.
Foot tap along to live jazz, Batala drummers and military bands, amongst a host of other fabulous music.
Discover your wild side with forest school sessions.
Test your accuracy at archery.
Get competitive in the Hobby Horse race!
Ever fancied being in a circus? Try hands-on circus skills for yourself.
Learn about forest operations and get up close to the tractors and machinery.
Get lost and found in the Stansted Yew Maze.
See Marco the Magician! Watch out he might turn you in to a frog!
Other attractions include:
- Hot Air Balloon Rides (weather permitting) £10 per person.
- The Stansted Park Light Railway.
- The mansion, with its extensive Edwardian servants' quarters and artefacts of national significance from the Battle of Waterloo. Gain inside access to the house for just £5. Experience life below stairs in one of Hampshire's best preserved servants' quarters, as well as the opulence of the upstairs rooms, including The Waterloo Exhibition featuring the sword that General Sir William Ponsonby used in this most famous battle!
Book Tickets
Guide Prices
Adult day ticket: £12.50
Teen ticket (14 - 16yrs): £6 (must be accompanied by an adult)
Children 13 years and under: free with an accompanying adult
Weekend special: £20 per adult
TripAdvisor
Map & Directions