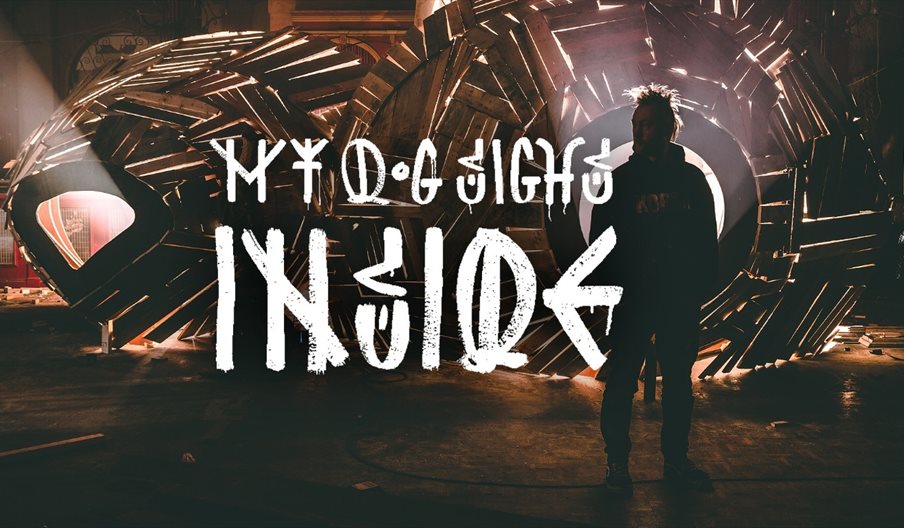 About
My Dog Sighs presents Inside: 'We Shelter Here Sometimes' - an immersive installation opening at an undisclosed location in Portsmouth (details will be sent to ticket holders a few days beforehand).
Note, the post code and map on this page do not reflect the venue site and should not be taken as a guide.
'Inside' is acclaimed British street artist My Dog Sighs' most ambitious project to date, transforming a derelict building into an immersive world inhabited by the artist's own creatures, dubbed his 'Quiet Little Voices'.
Like us, these creatures are not perfect nor are their lives perfect. They struggle, they make mistakes, they fail. But like us too, they don't give up. Even among the decay they use their creativity to find hope – a powerful message in these turbulent times.
Street artists are often perceived as ghosts, with only the results of their endeavours visible to the world. My Dog Sighs takes these creatures, that started life as scribbled doodles in the margins of his sketchbooks and uses them to represent different facets of his life. Replacing himself with these beings as a representation of his inner 'Quiet Little Voices', they embody a range of emotions from playful to melancholic.
For the first time, My Dog Sighs moves into sculpture, fusing his visual language with light and sound installations, alongside the photorealistic paintings and naive characters that define his practice. No longer is the artist the creator, but his creations take on the mantle of 'My Dog Sighs' and as viewers we are welcomed 'Inside' the world of these ghosts.
The anthropomorphic creatures have been given free rein to take over the multi-storey space, finding shelter and creating their own language amongst the dimly lit corners. 'Inside' responds to the building itself and finds beauty amongst its dilapidated floors and crumbling walls. The project extends My Dog Sighs' street art practice where he uncovers the beauty of these forgotten spaces and demonstrates the power of creativity to inspire and uplift communities.
The artist has worked closely with both sound experts from Portsmouth University and a renowned creative lighting company to create a unique and immersive street art experience.
All visitors, including babies, require a ticket. Under 18s are free. Concessions are available for students, people over 65, people with disabilities and people on benefits.
Please note
The exhibition takes place in a derelict building which forms the backdrop to the experience. This means the following controls need to be implemented:
Please dress warmly and wear appropriate footwear.
Please arrive between 10 and 30 minutes before the time on your ticket. Please join the queue marked 'Ticketholders'. You will be checked in outside the building and all ticket holders for that time slot will be admitted at the same time. You will have 45 minutes on each floors (one and a half hours in total).
If you arrive after the start of your time slot then you will not be able to enter the building. The team will attempt to give you access to a later time slot but this cannot be guaranteed.
You will be issued a wristband at check in which you must wear whilst in the building. Parents holding children can wear the wristband on behalf of their child (ie wear two wristbands). Wristbands will be removed before you leave the building.
Unfortunately there is no access for wheelchairs or buggies. Stewards are trained to help people with disabilities so please speak to the queue manager if you need assistance including somewhere to sit or help moving around the building.
You must follow instructions from stewards; failure to do so may result in you leaving the exhibition.
There will be art, prints and merchandise for sale. Credit and debit cards are accepted but not cash.
"This exhibition has taken 18 months to produce. I have poured my heart and soul into it and directed all the work I would normally produce to make this show. Thank you for your support and faith in me." My Dog Sighs
Book Tickets
Guide Prices
| Ticket Type | Ticket Tariff |
| --- | --- |
| Adult | £10.00 per ticket |
| Child | Free |
| Concession | £5.00 per ticket |
Note: Prices are a guide only and may change on a daily basis.
Map & Directions