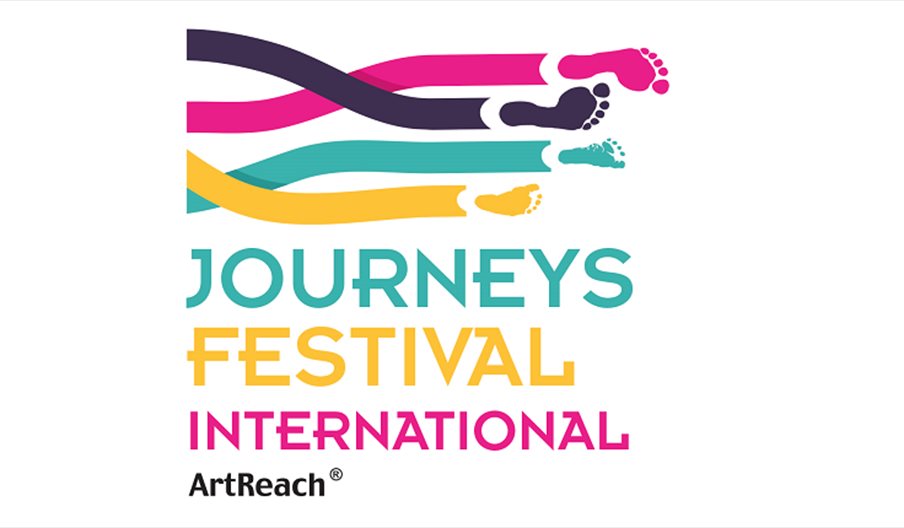 About
Journeys Festival - which celebrates refugee art - returns to Portsmouth for 2021.
Journeys Festival International curates, presents and commissions a varied programme of work created by artists that explores the refugee experience and global cultures through artistic and creative encounters. For the first time ever, the Leicester, Manchester and Portsmouth Festivals will combine programming, to bring you three weeks of digital creativity, online content and world-class cultural experiences.
This means the three festivals will occur in three cities across the UK at the same time. Touring work, large-scale exhibitions, new commissions, performances, workshops and digital projects will be available for you to enjoy in the midlands, the north and the south of the country from 15 - 24 October 2021.
Programme
Where There is Light by Squidsoup
Where There Is Light is an immersive sound and light installation by award-winning SquidSoup, with a soundscape co-created by sanctuary seekers in Leicester, Portsmouth, Coventry and Hull.
Wonderland by Mohammad Barrangi
An outdoor exhibition by internationally renowned artist Mohammad Barrangi. Using Persian calligraphy and handdrawn illustration, Wonderland explores cultural identity, immigration and tells Mohammad's story of seeking asylum in the UK.
Bloodland Embrace By Invisible Flock and Majid Adin
Bloodland Embrace is a newly commissioned animation exploring pan-European friendship and collaboration, and the shared experience of the refugee situation in Europe. The project is led by animator Majid Adin in collaboration with Kalico Collective and interactive arts studio, Invisible Flock.
Reckoning by Akeim Toussaint Buck
Reckoning is a short film and performance piece created by choreographer and storyteller Akeim Toussaint Buck, filmmaker Ashley Karrell, animator Benedetta Fasson and writer Mandla Rae. Reckoning is a film and live performance that blends contemporary dance, spoken word and digital animation to create a spellbinding experience which will be performed in each of the three cities throughout the festival.
Global Kitchen
For the first time, Global Kitchen will take over professional kitchens in Leicester, Manchester and Portsmouth. Working with wonderful sanctuary-seeking chefs, along with some favourite local restaurants, Global Kitchen will create a menu that brings culinary treats from around the world to a supper club near you. Tickets will be available to purchase in advance, so keep an eye on social media and the Journeys Festival website for announcements. Global Kitchen also has a Recipe Book that you can buy so that you can go on culinary world travels in your own kitchen.
Look Up by various artists
Each year the festival commissions new artists to create large-scale, outdoor exhibitions placed on key buildings and city centre street furniture.
For 2021 the festival has worked with Bahzad Sulaiman, Rita Adib, Parham Ghalamder and Ally Zlatar, who will be participating in a cross-European residency with mentors Rachel Dobbs and Adam Broomberg, to create coolaborative insllations that will seen far and wide across each city.
Book Tickets
Guide Prices
Prices vary by event. Most are free. Click 'Visit Website' above for more details.
TripAdvisor
Map & Directions