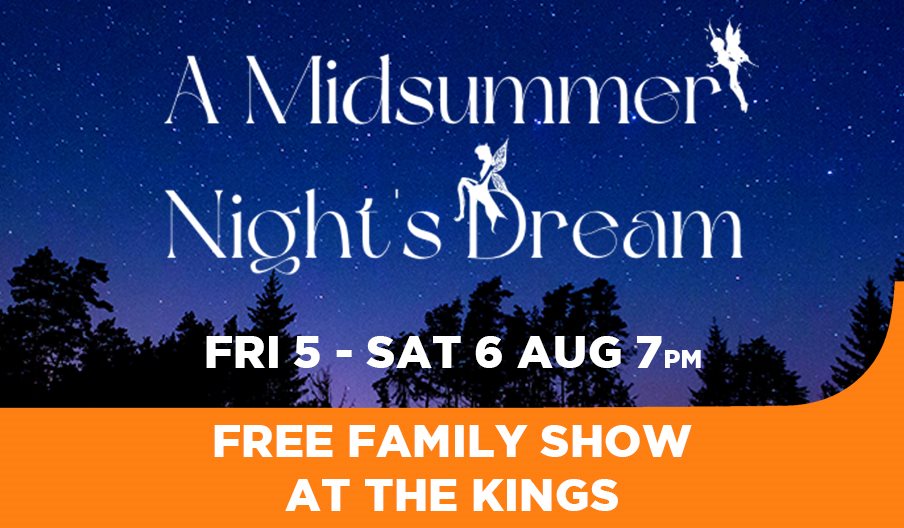 About
Performers from the Kings Youth Theatre embark on a fresh re-telling of Shakespeare's classic, set in 1960s Athens. The acclaimed comedy is brought to life with fairy folk, swinging tracks and flower power!
With songs from well-known artists of the decade, you can get your groove on to 'Get Ready' by the Temptations, 'I'm A Believer' by The Monkees and many more.
A Midsummer Night's Dream follows the story of lovestruck friends, mischievous fairies and a talking donkey...
Hermia and Lysander plan to elope and escape to the forest, where they are pursued by Helena and Demetrius. When the fairies' cast their meddling spells, a twist of fate falls upon all those in the forest. Watch the joyful chaos unfold in this hilarious tale of love, friendship, mischief and magic.
You will be left wondering – was it all a dream?
This performance is by the older members of the Kings Youth Theatre, aged 11 - 18 years old.
All tickets to this performance are free as part of the Kings Theatre's commitment to introducing and involving the community in the theatre. Your free ticket can be booked via the Kings Theatre website.
Book Tickets
Guide Prices
Free - book at the Kings Theatre website.
TripAdvisor
Map & Directions