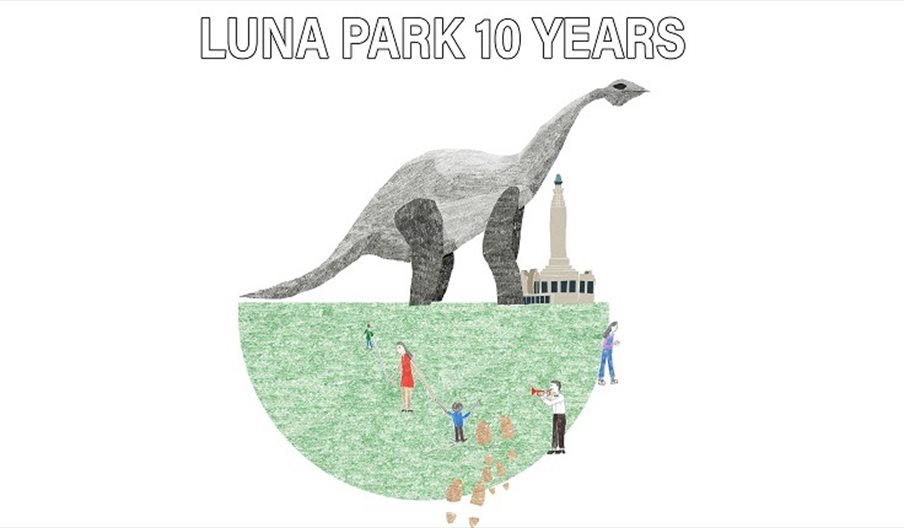 About
Aspex, Portsmouth's contemporary art gallery, has commissioned Heather & Ivan Morison to re-build their 2010 public artwork Luna Park in virtual reality.
Marking ten years since the 16-metre tall Ultrasaurus occupied Southsea Common, Luna Park 10 Years allows visitors to walk around and underneath a 3D rendering of the original sculpture, and share their own memories and photographs of the artwork.
For a commission led by Chapter Arts Centre in Cardiff, the original Luna Park was installed by Aspex on 31 July 2010 and was visited, photographed, climbed on and enjoyed by thousands of people, until it unexpectedly burnt down on 1st October. Known affectionately by Portsmouth's residents as 'The Southsea Dinosaur' the sculpture had been due to travel to Colchester and Cardiff as part of a touring partnership between Chapter, Firstsite and Aspex.
The newly commissioned VR artwork consists of a 360 degree digital Southsea Common, which visitors can experience in their own homes at any point over the next twelve months. During that time, photographs and memories contributed by the public will be added to the virtual space and create a constantly changing environment.
Luna Park 10 Years went live on the 31st July 2020, at the same time that Aspex launched a Crowdfunder campaign, raising money for a permanent tribute to the Ultrasaurus. Combined public and Portsmouth City Council support will go towards commissioning a bronze sculpture with an integrated digital photo archive to be installed on the seafront in 2021, as part of Aspex's 40th anniversary celebration year.
The Luna Park 10 Years launch is supported by Portsmouth Creates, Portsmouth City Council, the University of Portsmouth and Chapter.
An extensive programme of activities will include: a screening of 'An Unreachable Country. A Long Way To Go', the film which shows the making of the Ultrasaurus sculpture in Serbia; Heather & Ivan Morison in conversation about the project via Zoom; The 'Do-you-think-they-saw-us' Arts trail around the city; a Dinosaur Cake Competition; and the official launch of the crowdfunding campaign. Full details of the events and activities programme will follow.
Aspex's Learning Team will also be running a series of free Luna Park 10 Years related activities through the #AspexatHome digital programme on the @aspex_takepart Instagram page, and running a special art project with a local primary school, which will result in an exhibition in Aspex's Learning Space when the building reopens to the public.
To find out more about Luna Park 10 Years and to share your memories visit www.aspex.org.uk or email lunapark@aspex.org.uk.
Luna Park 10 Years is delivered by Aspex in partnership with Portsmouth Creates, Portsmouth City Council, the University of Portsmouth, Chapter and PONToon, an EU Interreg France (Channel) England funded project co-financed by the European Regional Development Fund.
Luna Park (2010) was commissioned by Chapter in collaboration with Safle through the Studio Safle programme, Aspex Portsmouth and Firstsite Colchester. The project received generous financial support from Safle, The Calouste Gulbenkian Foundation, the Arts Council of Wales, Arts Council England through Sustain and was part-financed by the European Union.
Book Tickets
TripAdvisor
Map & Directions