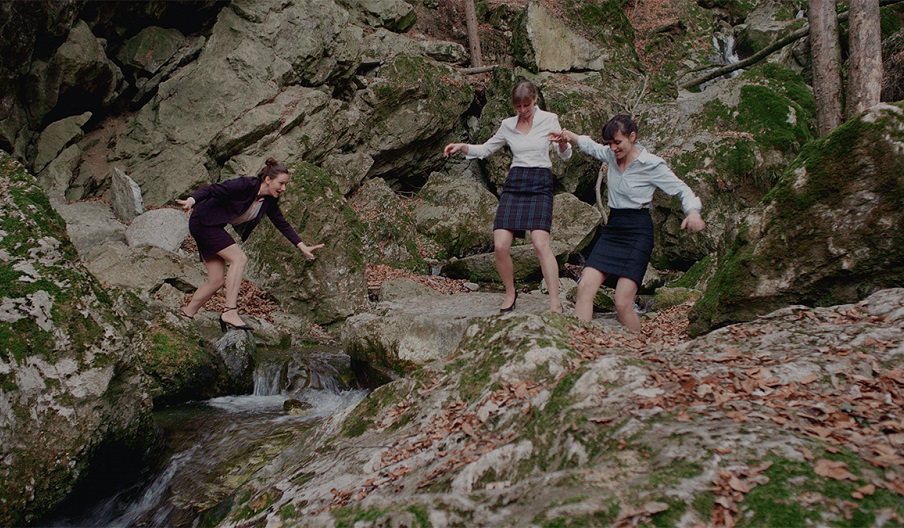 About
Emergency 2021 is the ninth edition of Emergency, a biennial group exhibition of work by emerging artists, selected from an international open call.
The artists in this year's exhibition are Helen Anna Flanagan, Vera Hadzhiyska, Eugene Macki, Adriane Morard, Rhys Morgan, Rossella Nisio, Jim Roseveare and Jessica Wetherly.
The open call generated over 300 submissions from artists around the world, and the final eight were selected by the guest panel of judges: Joanne Bushnell, Director of Aspex; Alessio Antoniolli, Director of Gasworks; Helen Cammock, Artist; and Will Lunn, Director of Copperfield Gallery.
Emergency 2021 features work in a range of media including sculpture, photography and moving image. For the first time since launching in 2004, half of the exhibiting artists are presenting digital video work. This iteration of Emergency is also the first to not charge artists an entry fee; the installation of the exhibition has instead been supported by Aspex Patrons.
As in previous years and as a key part of Aspex's work to support emerging artists, one of the eight artists will be selected for a solo exhibition at Aspex in 2022.
Artists in Emergency previously chosen for solo exhibitions include: Susan Collis (2003), Tim Machin (2005), Cathy Ward & Eric Wright (2007), Kihlberg & Henry (2009), Charlie Tweed (2011), Jim Howieson (2013), Maya Ramsay (2015) and Maggie Roberts (2017).
Maggie Roberts, selected from Emergency 2017, presented her solo show, Uncanny Valley, Difficult Kin at the gallery in Spring 2019. Roberts is based in London and Cape Town and also works collaboratively as 0rphan Drift.
About the Artists
Helen Anna Flanagan
Based in Rotterdam, Netherlands
Observed human incidents often form the starting point for Flanagan's work. She combines these real events with fictitious narratives to produce video, sound and installation. By constructing and imagining scenarios, often making use of the absurd, Flanagan looks to investigate social structures and the political subtext of the everyday, focusing on affects and emotions, labour and the body.
www.helenannaflanagan.com
Vera Hadzhiyska
Based in Portsmouth, UK
Hadzhiyska's With the Name of a Flower is a multi-disciplinary project which investigates the forced name changes (from Muslim to Slavic names) of the Muslim population in Bulgaria (1912 -1989). Dealing with severe historical and political subject matter, the work conveys the anguish of violence without aestheticizing violence itself. Instead, the project evokes lived experiences of repression through repetition, silence and private protest.
Hadzhiyska examines the generational impacts of these events on the cultural, religious and national identity of the Muslim communities in Bulgaria and their collective memory. She studies how the passing down or the purposeful omission of these memories from the family narratives causes a change in the sense of identity and belonging of the younger generations.
www.verahadzhiyska.com
Eugene Macki
Based in London, UK
Eugene Macki's practice is intimately associated with, and fundamentally interested in, four types of transformations: translation, rotation, reflection and dilation. His work investigates how they each operate, as well as in connection to one another. In the end, these works become part of a series of action-based performances.
www.eugenemacki.com
Adriane Morard
Based in Berlin, Germany
Adriane Morard takes interest in altered ways of operating in physical and social realities. Exploring materials and their subjectivity, her most recent works look at gold and its representations. Focusing on gold as a universal embodiment of the supreme, she playfully exposes the preciosity of the material, unfolding frictions and asymmetries that echo the system in which it operates.
Working with a XVIth Century water-based gold leafing technique traditionally used in the making of icons, she traces parallels between the archaism of the medium and the stratifications of the subtexts constituting contemporary narratives. Her work aims to open liminal spaces which are not limited to the internal consistency of the dominant paradigm.
www.adrianemorard.com
Rhys Morgan
Based in Plymouth, UK
Rhys Morgan is an interdisciplinary artist who describes his practice as iterative; with each component forming part of a larger work. Morgan counterposes pop culture references with fragments of mundanity and candid description of internalised dispossession, creating a queer despair. His work in Emergency 2020, 'D A D D Y G O G U E', created for the Plymouth Art Weekender 2018, explores modes of information learning and its role within gender and queerness.
www.tumblr.com/blog/daddygogue
Rossella Nisio
Based in Rotterdam, Netherlands
Oscillating between memory and hallucination, Nisio's work The Silent Ray, together with its prologue The Banquet, probes the relation between public and private retelling of dramatic historical events — namely, the colonial war Fascism waged against Ethiopia in 1935-36. Through spatial reconstruction and a form of narration that draws from the theatrical monologue, the work explores the human need for transcending one's social and personal constraints, regardless of consequences.
www.manicowlworks.com
Jim Roseveare
Based in St Leonards-on-Sea, UK
Jim Roseveare's work is informed by over 35 years in arboriculture, giving him a particular insight into working with form, function and the powerful processes of how things change over time. His current artworks include large sculptural installations made from concrete and debris. A process which borrows the language of archeology, geology and anthropology. Debris swept from ground surfaces contain traces of humanity and the landscape. Artworks undergo a reverse archeology – concealment and burial and yet unearthing and disclosure with potential to give new life.
www.jamesroseveare.com
Jessica Wetherly
Based in London, UK
Jessica Wetherly uses a state of objective alienation to rediscover the extraordinary wonders in the everyday and develop imagined narratives of different possible futures. Through an intuitive and playful approach she has built worlds which confront the blindness of an anthropocentric society and the indeterminable future not only for ourselves but all living things. Wetherly makes symbolic objects that piece together fragments of information and fossilise them through traditional sculpture techniques of modelling, moulding and casting.
Wetherly's artwork, // Laboratory { presents ​a world of fictitious creatures, in an imagined, rendered experiment, of inflated and deflated skins. She raises questions of how to sustain life and reactivate it in a future world whilst presenting notions of extraction, mutilation and syphoning of biological information reflecting current scientific research practises.
www.jessicawetherly.com
Book Tickets
TripAdvisor
Map & Directions