Make! Believe! Make!
Portsmouth City Museum
Museum Road
Portsmouth
Hampshire
PO1 2LJ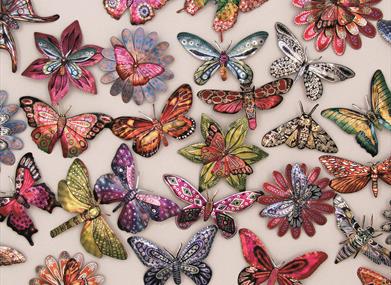 Take a fresh look at fascinating works of art as the old meets the new in this exciting exhibition at the City Museum. A number of different modern crafts artists have been exploring the museum's stores to find their inspiration. Find out what they chose and why. Some artists have made new work in response to the museum objects they have chosen; others have made intriguing links between their existing work and museum's collections.
You can discover what unusual connections have been made, for example between major maritime disasters and delicate porcelain, natural science and ceramics, and images of massive volcanic eruptions combined with tiny decorative objects.
This thought-provoking show reveals how the making of art has changed over time and how these artists created their work.

What's Nearby
The City Museum is the Museum of and for the people of Portsmouth with exciting and varied displays...

0 miles away

A guided walk by Portsmouth Tourism Guiding Service. This trail takes you through Old Portsmouth,...

0.27 miles away

Church built in 1212. Destroyed by fire bombs on 10 January 1941, but the chancel survived. King...

0.34 miles away

The New Theatre Royal is Portsmouth's friendliest arts venue in the heart of the city, bringing you...

0.38 miles away
Three kilometres of promenade now links Portsmouth's historic waterfront. The route starts from...

0.4 miles away

One of the largest indoor children's playgrounds on the south coast.

0.39 miles away

Clarence Pier Southsea is one of the largest amusement park on the south coast and boasts all...

0.42 miles away

Gunwharf Quays' spectacular waterfront location integrates the maritime heritage of Portsmouth with...

0.43 miles away

Bowlplex is more than just 10-pin bowling, "it's the great indoors".
Bowlplex boasts 26...

0.43 miles away

Portsmouth Guildhall - steeped in tradition and history

0.44 miles away

The Square Tower is one of the oldest surviving parts of Portsmouth's fortifications, built to...

0.44 miles away

The new look casino features a private bar which offers live performances seven days a week from...

0.46 miles away

Year-round programme of solo, group and themed exhibitions of contemporary visual art, accompanied...

0.47 miles away

One of Portsmouth's oldest permanent fortifications.

0.49 miles away

View things differently at the top of Britain's best viewing tower – the stunning 170 metre tall...

0.49 miles away

Hovertravel, the only scheduled Hovercraft operator in Europe, is the quickest way to reach the...

0.49 miles away
Previous
Next