London 2012 Olympic Torch Relay - Evening Celebration
Southsea Common
Portsmouth
Hampshire
PO5 3NT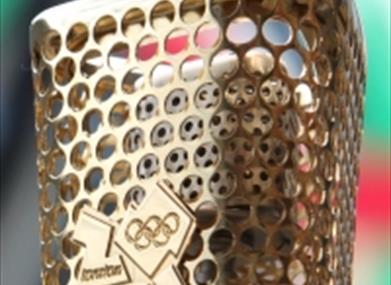 Portsmouth has also been chosen as one of sixty six places invited to hold an evening celebration, giving the opportunity for thousands of local people to share in the spectacle of the Olympics.
The evening celebration is a free two-hour event taking place on Southsea Common on 15 July from 5pm. It will showcase local talent alongside entertainment organised by London 2012 Organising Committee of the Olympic Games and Paralympic Games (LOCOG), and the three Presenting Partners of the London 2012 Olympic Torch Relay - Coca-Cola, Lloyds TSB and Samsung - with support from Portsmouth City Council.
Portsmouth City Council will present two, ten-minute slots of entertainment from local performers during the evening celebration. This will include a specially choreographed dance piece by Hampshire Dance performed in the Torchbearer Corridor leading up onto the stage. The New Theatre Royal Little Actors and Youth Theatre will also be performing a bespoke a Dickensian piece. Finally a Portsmouth Music Service choir of 30 school children from across the city will bring the evening to a close by performing three songs from the Singathlon songbook, which is part of the London 2012 Inspire Mark programme.
The three Presenting Partners will also each provide 20 minutes of exciting entertainment for the event. This will include a performance by the Rizzle Kicks courtesy of Presenting Partner Coca-Cola. Lloyds TSB will be bringing stunning acrobatic performances to the site and Samsung staging dance performances.
Prior to and during the show, the audience will have the opportunity participate in a number of activities courtesy of Coca-Cola, Lloyds TSB and Samsung. These include having your photograph taken with the London 2012 Torch and other Olympic-related activities.
Towards the end of the two-hour show, the last Torchbearer of the day in Portsmouth will light a celebration cauldron on stage at the event which will enable the Olympic Flame to be seen by the audience.

What's Nearby
The Southsea Splash pool is aimed at those with children aged 8 and under.

0.08 miles away

Crazy golf, 18 hole putting greens and pitch 'n' putt set on Southsea Common

0.08 miles away

Enter the Blue Reef Aquarium and take a safari from the depths of the Solent to the tropical coral...

0.08 miles away

A friendly club for all standards and ages.

0.09 miles away
The 19th century forts, Purbrook and Widley, are being renovated and are now multi-purpose leisure...

0.1 miles away

The D-Day Museum was opened in 1984 to commemorate the 40th anniversary of D-Day. Its centrepiece...

0.13 miles away

Southsea Common is a vast open space that was purchased from the War Department in 1922. It is...

0.14 miles away

Welcome to the premier Skatepark on the South coast.

0.15 miles away

Built in 1544, the Castle was part of a series of fortifications constructed by Henry VIII around...

0.27 miles away

We pride ourselves in offering a welcoming first class service whether you are an experienced...

0.3 miles away

Be entertained with our fun pools with funky flumes and wacky waves which are enjoyed by all ages....

0.31 miles away

Very attractive, sheltered gardens close to the seafront with a wide variety of interesting plants,...

0.45 miles away

Hovertravel, the only scheduled Hovercraft operator in Europe, is the quickest way to reach the...

0.46 miles away

Clarence Pier Southsea is one of the largest amusement park on the south coast and boasts all...

0.49 miles away

Three kilometres of promenade now links Portsmouth's historic waterfront. The route starts from...

0.49 miles away

0.5 miles away
Previous
Next