The Cellars
56 Cromwell Road
Portsmouth
Hampshire
PO4 9PN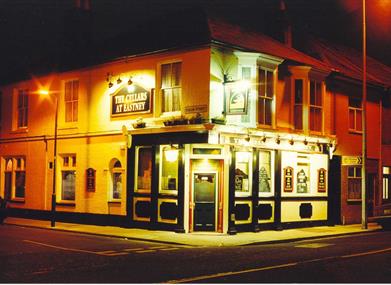 An intimate music and comedy venue with a programme to suit all performers and their audiences - from the novice to the signed artist.
Despite its 120 capacity, the Cellars attracts many artists usually found playing in much larger venues. Nik Kershaw, Howard Jones, Terry Reid, J.D.Souther, Dean Friedman, the Zombies, Albert Lee, the Hamsters, Wilko Johnson, the Alabama 3, Finlay Quaye, Dennis Locorriere, Sherman Robertson and Glenn Tilbrook have all played to packed houses.
The Comedy Club, established in 1999, has hosted the likes of Jimmy Carr, Hattie Hayridge, Lucy Porter, Mitch Benn and Rhys Darby. The venue also hosts a range of contemporary music events through local promoters. Admission tickets from £5 - £22.
Opening Times
2013

(01/01/2013 - 31/12/2013)

Day
Times
Monday

15:00

23:30

Tuesday

19:30

23:30

Wednesday

19:30

23:30

Thursday

15:00

23:30

Friday

20:00

23:30

Saturday

12:00

23:30

Sunday

12:00

23:30
2013

(01/01/2013 - 31/12/2013)

Day
Times
What's Nearby
The Royal Marines Museum tells the remarkable history of the Royal Navy's own infantry from 1664 to...

0.26 miles away

Southsea Golf Links is a 9 hole pitch and putt links course.

0.26 miles away

A 1/12th scale model village. Forty miniature buildings, houses, forts and castles.`G' scale garden...

0.55 miles away

Eastney Beam Engine House contains a pair of James Watt beam engines and reciprocal pumps restored...

0.56 miles away
Portsmouth is a very special place for wildlife in Britain. It has many different habitats in a...

0.58 miles away

A popular park dating from 1886 with some of the mature evergreen oaks planted in 1910. There is an...

0.58 miles away

Eastney swimming pool is a small 20m indoor community pool.

0.63 miles away

The Wedgewood Rooms, Portsmouth is a well established live music venue, playing host to many...

0.68 miles away

Fratton Park is home of Portsmouth Football Club.

0.79 miles away

Dark Encounters offers an exciting range of ghostly events in the city of Portsmouth, ranging from...

0.89 miles away

Welcome to South Parade Pier, the venue at the front.

0.91 miles away

0.99 miles away

Edwardian theatre in the heart of Southsea offering a year-round programme of entertainment.

1.02 miles away

1.03 miles away

Southsea Marina sits on the threshold of the Solent - its relaxed and friendly atmosphere a...

1.03 miles away

Very attractive, sheltered gardens close to the seafront with a wide variety of interesting plants,...

1.15 miles away
Previous
Next