Portsmouth Watersports Centre
Eastern Road
Portsmouth
Hampshire
PO3 5LY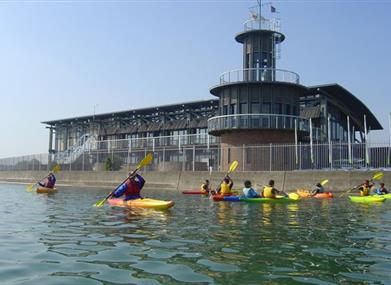 Click on the link to the right to visit our website so you can find a course that suits you, please feel free to phone us and tell us what you are looking for. We may be able to tailor a course to your needs, although you will appreciate that most course need to have minimum number to be viable.
The Centre is fully accessible to clients who have physical disabilities, including those who use wheelchairs. Many of the courses offered are suitable for people with disabilities and all our staff have experience of teaching students who have special needs. In order to ensure that we are able to provide a quality course for you, please phone the Centre to discuss your needs if you do have a physical disability.
The Centre welcomes enquiries from clubs, groups or businesses and we will be more than happy to discuss your specific training or recreational requirements. Contact the Centre management for an informal talk.
The Centre provides all its clients with buoyancy aids, protective clothing and wetsuits where required.
What's Nearby
Portsmouth boasts two 18 hole golf courses available for pay and play, with visitors welcome at...

0.72 miles away

Irving and Co brings the welcome return of brewing to Portsmouth and a new brewery to excite the...

0.81 miles away

Flower-rich grazing marsh and saline lagoon, which supports a wide variety of wildlife, including...

0.84 miles away

In the seventeenth and eighteenth centuries this area was dominated by extensive salt workings and...

0.88 miles away
ROKO is the biggest sports, health & fitness club on the south coast.

0.9 miles away

With our professional and friendly staff you can be sure of a warm welcome and a great time when...

0.91 miles away

An eighty-hectare site surrounding the fortifications of Hilsea Lines ancient monument

0.93 miles away

A 4.35 hectare area home to a host of wild fowl and ducks and established reed beds in the pond...

1.32 miles away

A free admission open access children's splashpool in Hilsea. The innovative Hilsea splashpool...

1.36 miles away

Beginers to pro's South Coast H2O is the home of the UK's longest System 2.o straqightline cable....

1.36 miles away

A 14 mile Langstone Harbour Waterside Walk can be enjoyed, starting from Ferry Point Eastney,...

1.37 miles away

The Mountbatten Leisure Centre is the city's premier sports facility.

1.74 miles away

Whatever excites you, wherever in the world you want to see, and irrespective of your experience;...

1.84 miles away

The Peter Ashley Activity Centres provide unique and interesting venues where both individuals and...

1.96 miles away

St Mary's has been described as the finest Victorian building in Hampshire. Designed just over 100...

2.01 miles away

2.16 miles away
Previous
Next