Above the Blue Gallery
33a The Upper Boardwalk
Port Solent
Portsmouth
Hampshire
PO6 4TP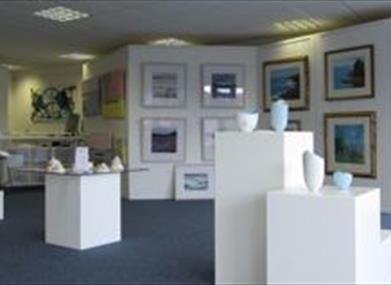 Above the Blue is Hampshire's refreshing, new contemporary art gallery in a stunning location overlooking the marina on the Upper Boardwalk at Port Solent Marina. It specialises in original paintings, ceramics, sculpture, jewellery, glass & cards from a hand picked selection of individual makers that have been chosen for the superlative quality of their work.
Lynn Pickett, owner of Above the Blue is an experienced gallery manager and aims to bring some fantastic new artworks to Port Solent. Lynn has been busy scouting the country for both established and emerging artists and building a collection which she hopes will attract art lovers from far and wide. Lynn features paintings, sculptures and a variety of other interesting artworks and plans to host several art events each year at The Boardwalk, Apart from paintings the range includes quirky clocks, unusual mirrors, ceramics, bronze resin sculptures of animals and exquisite bronzes by Cornish artist, Chris Buck, slip cast bone china vessels by the UK's foremost exponent in this medium, Sasha Wardell, right through to a very versatile range of jewellery by Annabel Owens. Above the Blue also offers a framing service.
Whether you are looking for a beautiful work of art for yourself or you are searching for a unique gift for any room in the house or your office or even just a card, Above the Blue is well worth a visit.
A warm and friendly welcome awaits everyone from the keenest collectors and corporate-art buyers, to people buying 'real' art for the first time – or those who just happen to be passing by and fancy a look, so please do drop in for a browse....
Opening Times
Gallery

(01/01/2013 - 31/12/2013)

Day
Times
Wednesday

10:30

18:00

Thursday

10:30

18:00

Friday

10:30

19:00

Saturday

10:30

19:00

Sunday

11:00

17:00
What's Nearby
Port Solent is Portsmouth's Leading Waterside Leisure Destination. Over 20 restaurants overlooking...

0.02 miles away

Odeon is the largest cinema chain in the UK, with over one hundred cinemas.

Odeon entertain...

0.03 miles away

Located in the picturesque setting of Port Solent Marina we provide our member with a superb range...

0.07 miles away

Port Solent is the south coast's premier destination marina.

0.35 miles away
A Roman-Saxon shore fort with Norman additions. A near-perfect keep and Norman church within the...

0.73 miles away

Fizzical fun for everyone. Rain or shine - day or night!

Portsmouth Playzone is the biggest...

0.73 miles away

A free admission open access children's splashpool in Hilsea. The innovative Hilsea splashpool...

1.23 miles away

Beginers to pro's South Coast H2O is the home of the UK's longest System 2.o straqightline cable....

1.23 miles away

The Mountbatten Leisure Centre is the city's premier sports facility.

1.28 miles away

Whatever excites you, wherever in the world you want to see, and irrespective of your experience;...

1.29 miles away

A chalk escarpment 120m high, with spectacular views across the harbour to the Isle of Wight. The...

1.45 miles away

The new centre has been set up to display artefacts, reproduction exhibits and memorabilia from...

1.54 miles away

An eighty-hectare site surrounding the fortifications of Hilsea Lines ancient monument

1.69 miles away

ROKO is the biggest sports, health & fitness club on the south coast.

1.8 miles away

Irving and Co brings the welcome return of brewing to Portsmouth and a new brewery to excite the...

2.05 miles away

Fort Nelson is a superbly restored Victorian fort overlooking Portsmouth Harbour. It is home to...

2.27 miles away
Previous
Next